So Halloween dawned bright (of course) and warm. Lily's preschool had a sort of Trunk or Treat event in the morning without the cars. We just circled the parking lot area and the kids came out in their costumes and gave out candy. These wee ones were so tiny and a bit shy.
This is all of Lily's class only. There were quite a few classes at this preschool and what was really nice is that normally they wear uniforms. I am all for uniforms.
This was the pumpkin was carved the night before...
Lily is quite the craft girl and so we made special things for the dinner table...little cups for oyster crackers. More on her skills in another post.
Can you see me? I'm hiding amidst the orange colors of NHB's front yard...and yes, still the ad man for Got Candy. I cannot tell you how amazed and impressed I with the costumes on kids and adults alike. Mostly around here we get bums and crazed zombies. Down in NHB's community you got real costumes. Adults were totally dressed and many offered special treats for adults...like jello shots and no I didn't partake...but there were also wings and veggies. I am not sure who had the most fun...the kids with the candies or the adults with their beverages which they carried with them as they walked with their kids. Some even in lovely fluted glassware, some in cans. Yes, I do know why they were having so much fun. Here's a sample.
After we were done walking we settled in at Jordan/Hillary's home and passed out candies.
Here are the kids, having just been 'made up' by their mom.
I was told to slow down, I was going too fast and not being part of the family. No one down there ran from house to house. They just ambled along like they had all the time in the world. I think I prefer it better up north here where we ran from house to house...all excited for the moment, in the dark and often, yes, in the damp. Perhaps we ran for warmth. Perhaps because it was just part of the fun. Life is different in the south, I guess. I still say "run for it!"
But back at home, M2T2 had a wonderful Halloween, especially the Trunk or Treat in Lakewood Ward. Marissa did an outstanding job with the costumes which they also wore to get candy on Halloween. In case you don't understand, Simon was exhausted and needed Marissa to hold up his head for the pictures.
Oskar was The Doctor (from Dr. Who), Henry was a Dalek, and little Simon was in the Tardis. So I guess that leaves Marissa as The Companion. Oskar got the honor of being The Doctor because of his close resemblance to Matt Smith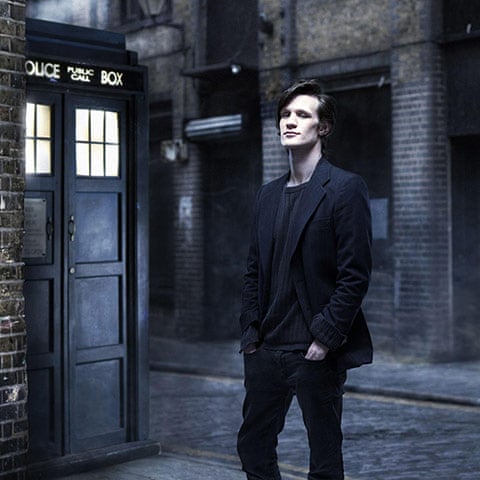 . Now Oskar will want to be the Doctor every Sunday.